Our medium length film "In The Mirror" is a festival darling, it inspired the same audience reaction at every festival:
. Amsterdam, Nederland New Renaissance Film Festival WINNER! "BEST FILM OF THE FESTIVAL"AWARD Nominations: Best Short, Best Actress, Best Supporting Actor
. San Francisco Bay Area, Voiceless International Film Festival WINNER! "BEST LGBT AWARD" Nomination: Best International Short
. Cortland, NY Blackbird Film Festival 2018 Nominations: World Cinema Award, Lead Actor (Female) Award
. San Antonio, Texas QFest International Film Festival Nomination: Best Performance
. Sheffield, Great Britain Transforming Cinema Film Festival Nominations: Best Film, Short Film, Cinematographer, Directing, Editing, Scriptwriting
. New York, My True Colors Festival
. Taiwan International Q Film Festival 2017
. Cluj-Napoca, Romania SFG International Film Festival
. Chicago, Illinois Transfluential Film Festival
. Detroit, Michigan Trans Stellar Film Festival
. Kiev, Ukraine Equality Festival
. Orlando, Florida 2017 SPE Media Festival
. Palm Springs, CA Cinema Diverse
. Hanoi, Vietnam International Queer Film Week
. Phnom Penh, Cambodia Coming Out Day
. Hanoï, Vietnam Bridgefest: Bridging the Gap
. McAllen TX La Frontera Q Film Fest Nomination: Best Narrative Short
. qFLIX Philadelphia 2019
. Salvador de Bahia, Brazil Independent Cinema Festival Nomination: Best LGBT Short Film
. Dunedin, Florida International Film Festival Nominations: Best Short Film, Best Performance (Female)
. Mc Alester, Oklahoma Glitter Film Festival Nominations: Best Short Film, Best Director Short, Best Actor Short, Best International Film, Cedric Thomas Smith Visionary Award, Best Screenwriting Short
. Mumbai, India KASHISH International Queer Film Festival Nominations: Best International Short, Best Performance
. UNESCO HEALTH & HUMAN RIGHTS Certificate granted
Categories: Drama, Family, Strong Woman, Social Justice, Human Rights
Synopsis - It's a "slice of family life" between a father and son. "Joelle" has undertaken a gender reassignment, but is still the paternal figure for her son. A story that paints, with delicate but also violent strokes, all the love and opposition a Son can feel towards a Father. It plays with the viewers emotions until the dramatic conclusion that stays with us until long after the end.
This is the reason we believe the general public is taken up by the film. The audience reaction and the subsequent reviews prove that the story has been well told, our job has been done.
It's not a film where the story revolves around nice transgender characters in a bad world, we hope to be much more complex and ambitious. Of course, writing a scenario around a transgender character is still, sadly, a political act in our era. The challenge that we gave ourselves right from the film's conception, was to take this story even further than a niche audience. This story is comment on Society, and so the world as a whole.
The power of the storytelling with a kick-ass finale, is also the reason why transgender viewers came to thank us in person, saying "You have shown my life on the screen".
The New Renaissance Film festival (London, Amsterdam) jury found the fitting words "Powerful and Engaging" to describe "In The Mirror" and awarded it "in recognition of outstanding storytelling, directing, acting and production".
5 film festival juries have already nominated leading actor Joelle Séchaud for "Best performance".
Jack Waltzer, from the legendary Actor's Studio found the actors' interpretations were "Very good, it's pretty obvious".
This film is different. We are counting on your curiosity, to share "In the Mirror" with your public. A film that has moved the spectators, systematically, at each of the thirty projections in the world that we have organized until now. We have bet on it with our work and talents!
"An amazing film! ......delves into emotions that many share when dealing with family".
Thank you,
Manuel M. Mercier
http://nrffamsterdam.com/nrff-interviews-manuel-m-mercier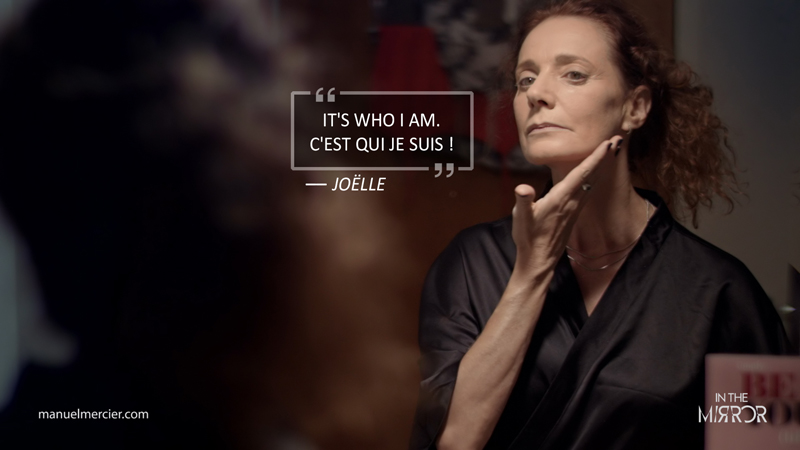 "Time is no longer a time for tolerance. I don't like that word. What does it mean to tolerate? It is acceptance that we need. Respect for all."
Christophe Girard, Mayor of the 4th district - Paris during the Press Screening of "In The Mirror"
To deafening indifference, every day a transgender person is murdered* by the hate stirred by their very existence. Yet 700,000 people identify as transgender in the US **.
90% of transgender people suffer harassment and discrimination at work***. For many, work is limited, whereas in a perfect world, talent or skills should the only factor that counts.
For a transgender person, the challenge is multiplied: freedom is partial, emasculated, and prevents from being autonomous, responsible.
I cannot remain silent about a major case which should not even exist if the law was effectively respected and enforced. The result is such a lack of recognition of the person, that even her human rights, that we call inalienable, are denied.
Unable to leave the USA or cross international borders without the fear of not being able to return to her home in New York, the story of our actress Gisèlle Moore (the moderator of the group) is very compelling and tragic.
Gisèlle cannot leave US soil for the promotion of the film, for the simple reason that her papers are still not in compliance with her new identity. For US officials, she is still the same seaman from Indonesia who disembarked 13 years ago. At the same time, bureaucracy made it practically impossible for her to obtain a new identity document in reflecting her gender change in Indonesia.
That she has experienced difficulties in the country where she comes from, we are not surprised, but in the USA- the Land of the Free? Thankfully now she will have another opportunity to fight her case in Court and obtain protection from the persecution that she suffered from in her home country.
Even now as I write this, Gisèlle's younger brother has just died back in Indonesia. She lost both of her parents since she came to the USA. She couldn't go to their funerals, she could only pay for their medical care until the end... But deep down she knew that returning, even only for a brief visit, is not possible because of who she is. Yet, although physically cut off from her family, she beat the odds and built a bright future here in the USA. I am hopeful that the USA will finally grant her the protection she deserves.
It's time for us to accept and respect one another - and to offer our strongest support especially for transgenders. For them not to be reminded constantly of their difference, and the right to leave the suffering of the past behind.
Gisèlle Moore has our full support.
08/10/17 BREAKING NEWS FROM GISELLE MOORE: "After years of waiting the Immigration Judge finally granted me a relief which enable me to live in the country indefinitely and eventually become US Citizen. My life is almost complete, with the help of amazing attorney Lia Suntoso, I now have female identification and also my husband's last name that i really wanted to have which is Moore!
This has been amazing journey, I just wish my parents were still alive to witness my success! I'm looking forward to promote our movie and travel around the world. It will be exciting years ahead of me".
* Trans Murder Monitoring
** Williams Institute
*** National Center for Transgender Equality and The Task Force